Samsung Fridge 439L Digital Inverter, Double Door, Top Freezer, Twin Cooling Plus, TMF, DIT, Air Hygienically, LED Lighting, Silver RT56K5341/RT43K6341
Factory/Distributor Prices
Avoid haggling or being price-gouged! Find the best value with fair prices straight from distributor/manufacturer
Delivery throughout Tanzania
Moisture-Full Freshness all over the fridge
Only Twin Cooling Plus™ creates a favorable environment for preserving fresh food in the fridge at 70% humidity, compared to 30% in a conventional TMF. So it keeps the ingredients fresh for longer without drying out.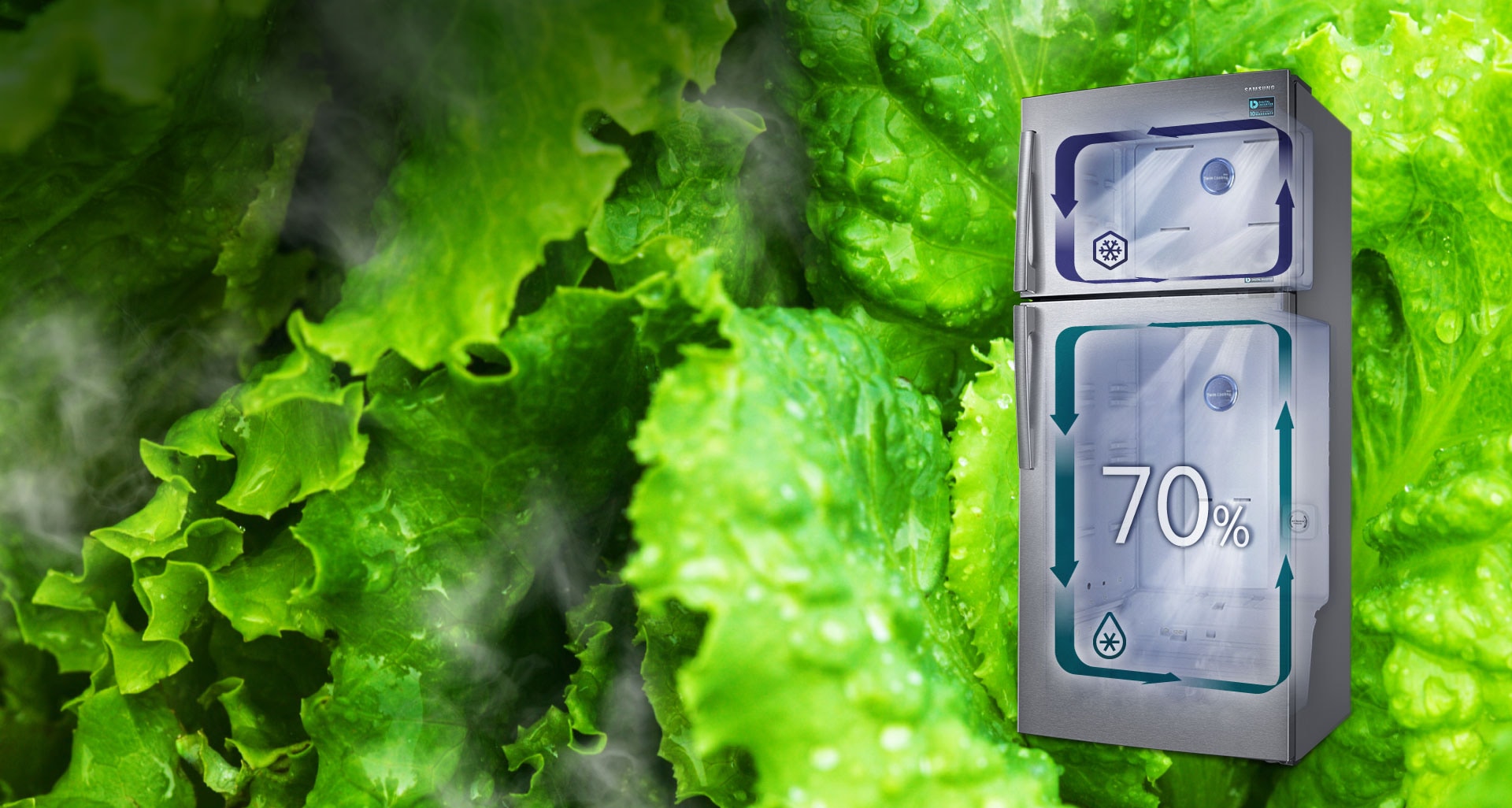 * Based on internal testing comparing Samsung RT22SCSW2 and RT6000K models.
Deliciously tasty, odor free frozen food
The Twin Cooling Plus™ system cools the compartments separately to prevent unexpected odors from spreading from the fridge to the freezer. Therefore, frozen foods retain more of their original flavor.
5 Conversion Modes on demand
Provides the ultimate in flexible storage. Easily convert your freezer into a fridge to hold all the fresh food you need to store for different seasons or special occasions. Or switch to power off mode* to save energy, depending on specifications.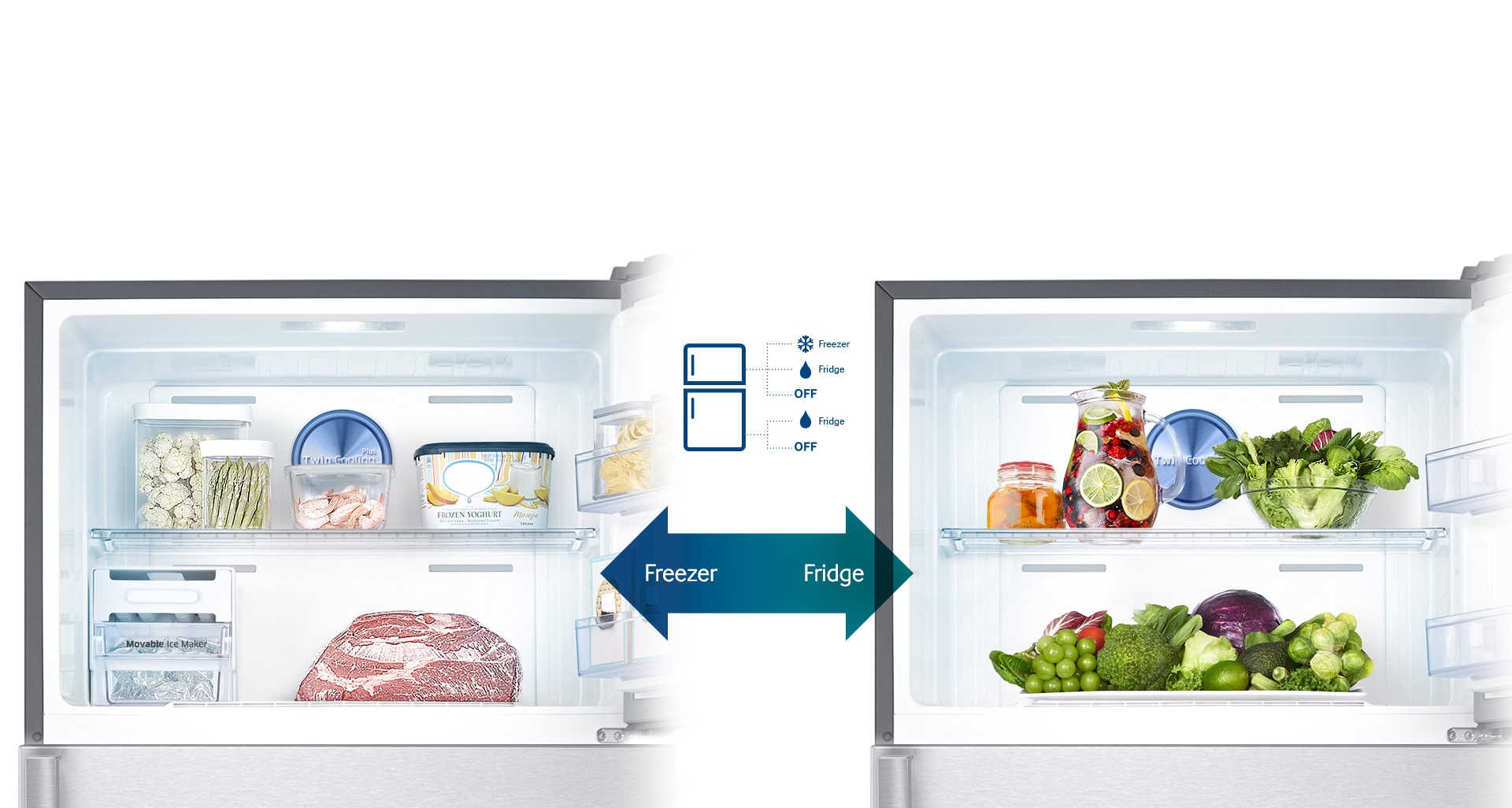 * The temperature of the compartments is kept below 15 ℃, consuming very little electricity ** If you want to use Freezer Convert, it is strongly recommended to use plastic containers to store food, especially vegetables.
Creates ice and chills beverages
Quickly delivers intensely cold air to freeze or cool quickly. At the touch of a button, Power Cool quickly cools food and drinks, while Power Freeze is great for freezing or keeping food frozen and making ice.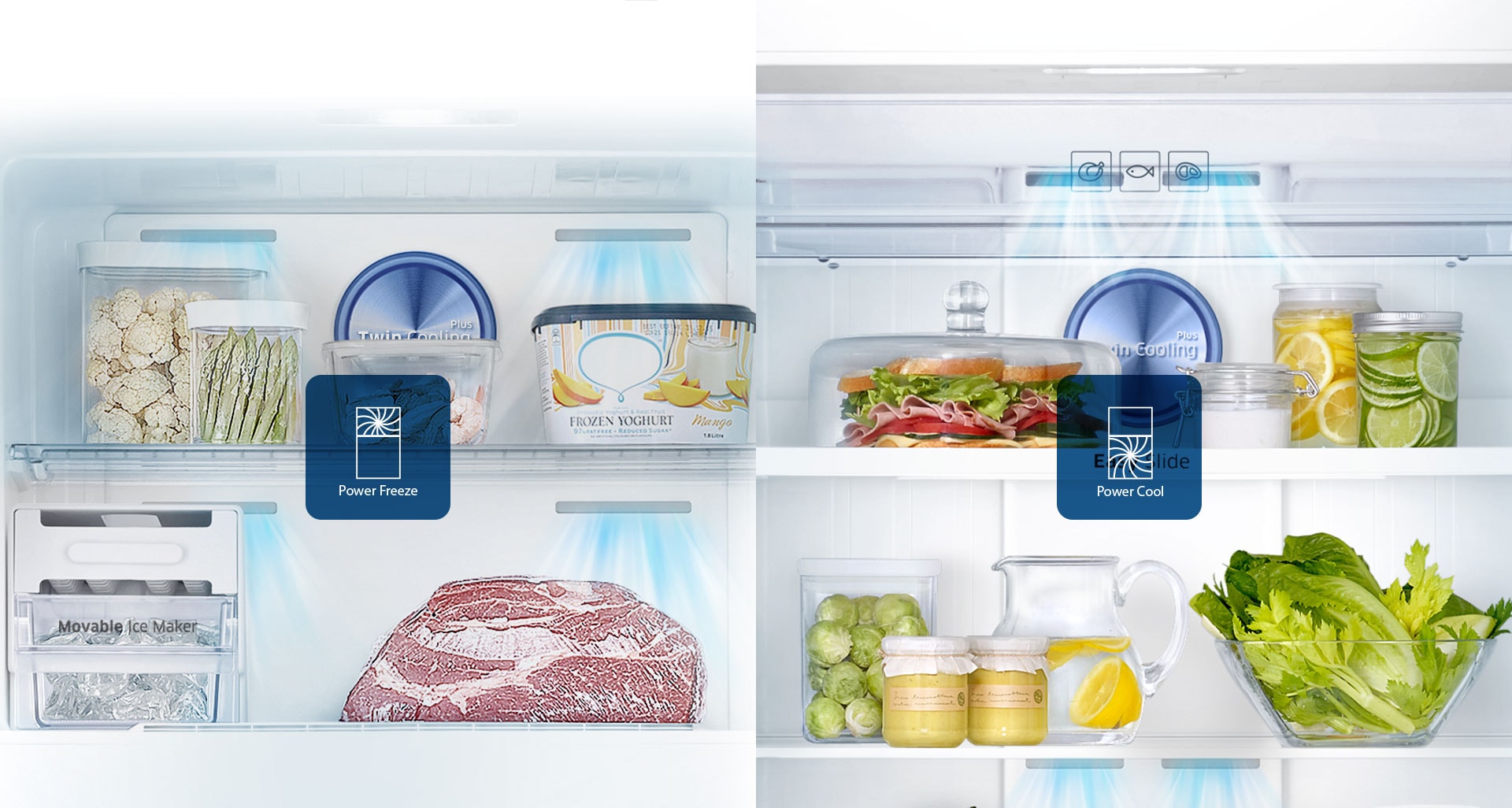 Easy to find and reach food at the back
Accessing a fridge often means navigating an obstacle course. The Easy Slide shelf allows you to efficiently store, organize and access your food – easily reaching things in the back and corners.
Smarter & durable
DIT
Enjoy long-lasting performance, energy efficiency of up to 50%*, precise temperature and less noise compared to a conventional compressor. Digital Inverter Compressor gradually speeds up and slows down in response to cooling requirements across 7 gears by utilising smart sensors. Adjusting speed means it suffers less wear and tear, making it durable and it operates silently. This durability is backed up by a 20-year warranty*.
* Based on internal testing comparing energy consumption (ISO 15502) between Samsung conventional model RT46K6**5(6)** and RT54E**** ** 20-year warranty is limited to the compressor only.
Keeps air hygienically clean and fresh
An Antibacterial Protector keeps the fridge clean and hygienic. The air is passed through an activated carbon filter, so it is constantly sterilized and deodorized, while an antibacterial mesh eliminates bacteria.
Clearly see everything inside
High-efficiency LED lighting is thinner, cooler and more energy efficient than conventional lighting. Located on the top and sides, it beautifully and brightly illuminates every corner, ensuring better visibility.
Specification
Capacity
Net Total:

440 ℓ

Net for Freezer:

111 ℓ

Net for Refrigerator(Liter):

349 ℓ

Gross Total:

454 ℓ

Gross for Freezer:

123 ℓ

Gross for Refrigerator(Liter):

331 ℓ
Physical specification
Net Width: 700 mm
Net Case Height with Hinge:

1785 mm

Net Depth with Door Handle:

776 mm

Net Depth without Door Handle:

726 mm

Net Depth without Door:

639 mm

Packing Width:

744 mm

Packing Height:

1864 mm

Packing Depth:

766 mm

Net Weight:

77 kg

Packing Weight:

83 kg

20 / 40 / 40 H (Container):

21/48/66
Cooling Feature
Twin Cooling Plus:

Yes

No Frost:

Yes

Multi Flow:

Yes
Refrigerator Feature
Deodorizer:

Yes

Number of Shelf (Total):

3 EA

Shelf Material:

Tempered Glass

Number of Vegetable & Fruit Drawer:

2 EA

Number of Door Pocket:

5 EA

Egg Container (Egg Tray);

Yes

Fresh room:

Yes

Interior LED Light:

LED

Big Guards:

Yes
Freezer Feature
Ice Maker :

Twist

Shelf Material:

Cool Pack

Number of Shelf (Total):

1 EA

Number of Door Pocket:

2 EA

Interior LED Light:

LED
General Feature
Refrigerant:

R-600a

Compressor:

Digital Inverter Compressor
Exterior Feature
Display & Control (Fridge and Freezer):

External Display

Door Handle:

Bar

Color: Inox
Water Dispenser:

No
Performance
Energy Efficiency Class:

A+
Please sign in so that we can notify you about a reply